Aerial
2023 Aerial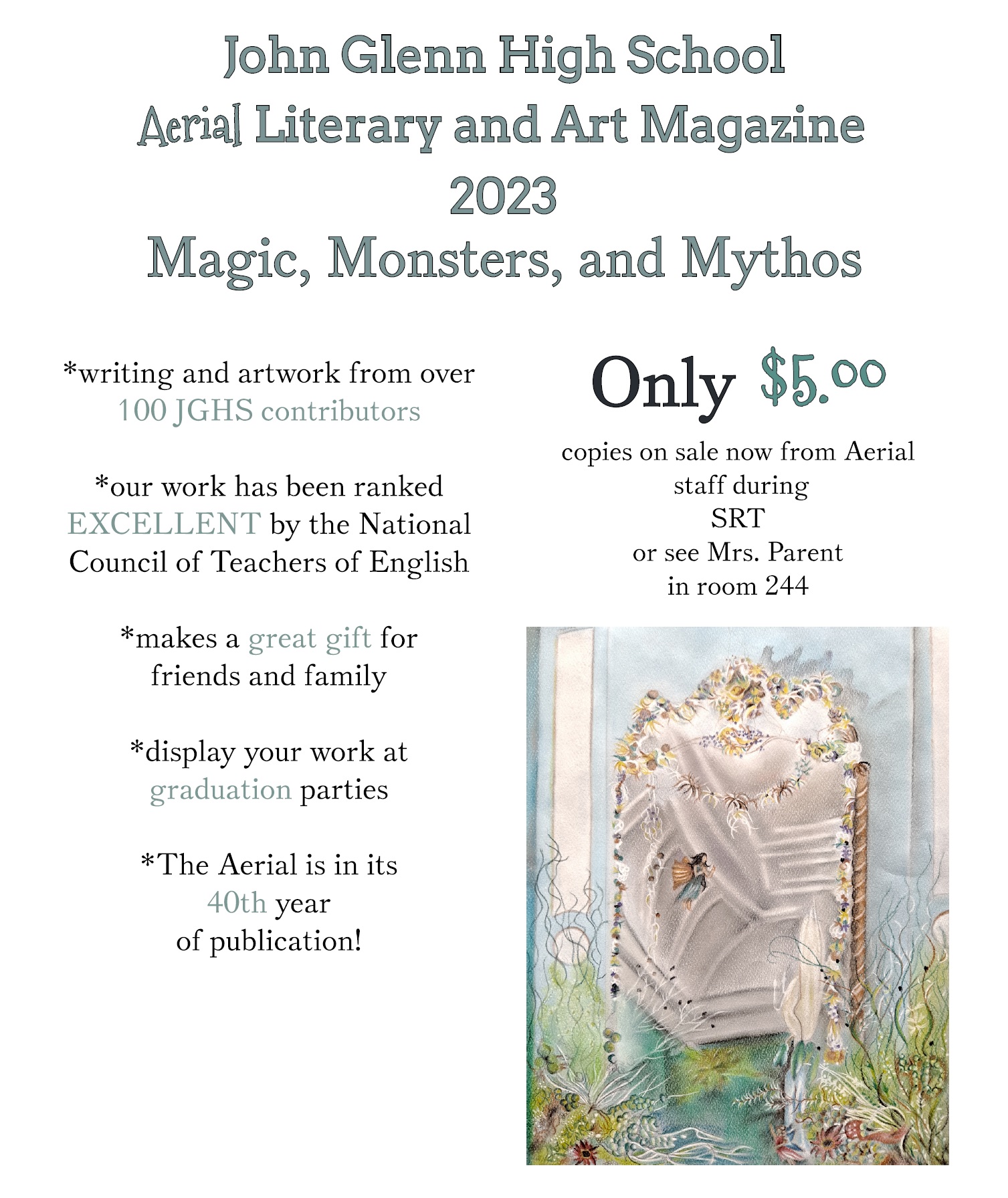 2022 Aerial
​
The 2022 Aerial is nearly sold out! Only a handful of copies are still available. See Mrs. Parent in Room 244 today if you would like to purchase a copy. Thank you to all of you who have supported our sales already!
Congratulations!
The following students earned awards from the Northwest Ohio/Northeast Indiana Regional Scholastic Competition in January:
John Schmalzried: Honorable Mention, poetry
Isabelle Awald: Silver Key, dramatic script
Gabrielle Smith: Silver Key, Poetry; Honorable Mention, Personal Essay & Memoir
Rowdy Smith: Silver Key, dramatic script; Honorable Mention, poetry
We also learned in January that our 2021 Aerial Literary and Art Magazine: Upside Downside earned a rating of EXCELLENT from the National Council of Teachers of English Recognizing Excellence in Art and Literary Magazines Contest. Student editors from last year include the following: Zoie Scott, Annabelle Stremme, Caleb Banghart (graduated); Gabrielle Smith and Adhemar Ennis
Mossberg and Company

A special thank you to Mossberg and Company for rolling out the red carpet for us to have a tour of the facility that publishes our annual Aerial Literary and Art Magazine. We are looking forward to w

orking with you next year for our 40th edition!
Mrs. Ennis' 2nd graders were awesome! They listened to our children's books and even shared their writing with us. All those new weather phenomenon were really clever--who thought tacos and money and parents could rain down on us?
We also thank the folks at the North Liberty Branch of the St. Joseph County Library for hosting a book reading and autograph signing for the pre-school children. We certainly enjoyed visiting with you all in the afternoon and submitting our writing for your Poetry Tree Project.